Bicycle Clear Plastic Playing Cards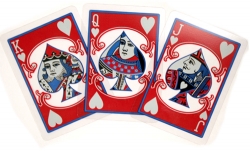 This poker-sized deck of clear plastic Bicycle Playing Cards is made of transparent plastic for a unique new way to play your favorite card games! The backs feature a Bicycle design that keeps your cards private from your opponentsm and comes in a clear plastic storage case.
Bicycle's most durable cards are ready for play in the hot tub, pool, beach or at the children's table. Way beyond typical all-plastic playing cards, they're washable, flexible and easy to shuffle, packaged in a clear reusable plastic case. Impress your friends with the cool see-through look. Grab a deck and take it on your next vacation or picnic, and let the fun follow.
Bicycle Heavy Duty Clear Plastic Playing Cards - 1 Deck
Quality 100% Plastic washable playing cards
Poker size, regular indexed
Ideal for nearly any card game
Additional Information