Play Gin To Win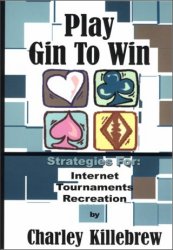 A manual to instruct gin rummy players in the intricacies and nuances of gin rummy in order to improve their knowledge and skills in the play of this particular game. It covers all aspects of the game for both face-to-face and Internet competition. Teaches how to play percentages, count cards, use of the "upcard", speculating, knocking, reading opponents' body language, cheating and courtesy. With appropriate illustrations and some interesting anecdotes. Also explains straight gin rummy, Oklahoma, Hollywood, and Oklahoma/Hollywood.
Charley Killebrew, is the leading percentage player in World Play Gin according to the statistics kept by the operators of 'Case's Ladder'. He also holds the record of longest winning streak, 37 games, and is ranked #2 (behind his Las Vegas partner) in the highest skill rating ever attained. He can teach you how to win consistantly.
By Charley Killebrew
| | |
| --- | --- |
| | $9.95 |
Additional Information
Price shown is believed to be accurate, but price and availability can and do change frequently. Please follow the links for current pricing.