Family Card Games: Rummy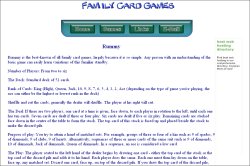 Rummy is the best-known of all family card games, largely because it is so simple. Any person with an understanding of the basic game can easily learn variations of this familiar standby.
This site provides basic rules and variations for the game of Rummy, as well as to numerous other card games that are suitable for any age range, including Old Maid, War, Slap Jack, Concentration, California Jack, Go Fish, Pig, I Doubt It, and Go Boom.
Additional Information