Yahoo! Games Canasta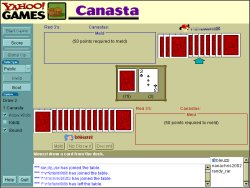 Play online Canasta games for FREE with Yahoo! Games. Hundreds of games are available to play online including the free Canasta game and a range of other card, board, and puzzle games.
Yahoo! Games Canasta offers both four-player and two-player games, using two standard 52-card decks and four jokers combined to make a 108-card deck. The object is to be the first to score 5,000 points by melding sets of three or more cards of the same rank. Shuffling, dealing, and scoring are handled automatically. Game rooms are provided for social, beginner, intermediate, and advanced players. Requires a Java-capable browser.
Additional Information