Seasons: The Calendar Rummy Game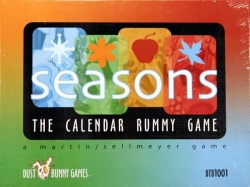 Seasons is the fun new way to play rummy based on a familiar concept - the months of the year!. Each player starts the game with their own season-themed deck. Score points by getting rid of your cards faster than your opponents. Earn bonus points by stealing your opponents cards or by playing special holiday, birthday and wild cards. Keen strategy is required as you progressively fine-tune your deck throughout the game.
The first player to earn 365 points wins! (366 during a leap year!) So gather up your family and friends and let the fun begin!
Ages 10+, 2-4 players, 60-120 minutes
Four, 55 Card Decks
Full Color Rule Book
Score Pad
Additional Information