Phase 10 for Kids: Sesame Street Edition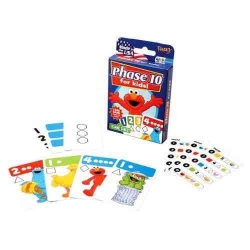 This version of Phase 10 is designed especially for kids! It's an entirely new game based on the classic game you know and love. Ten easy-to-understand phase cards help children easily identify what they are collecting each round. Scoring is simple: The first to collect what is shown on his or her phase card wins!
Clear colors, numbers, shapes, and your favorite Sesame Street character make collecting easy. Phase 10 for Kids is for 2-6 players, ages 4+.
Based on the Classic Phase 10 Card Game for adults.
For 2-6 players
Ages 4+
Cards feature your favorite Sesame Street characters!
Additional Information