Phase 10 Deluxe Card Game in Tin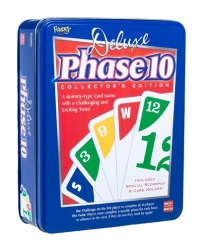 Have all the fun of Phase 10 in a Deluxe Collector's Edition. In this wildly popular game, Players must complete a specific phase for each hand to advance to the next, if they do not they must try again! Isn't it time you took the challenge?
The classic game of Phase 10 is packaged in a collectible tin with accessories to enhance game play. Now you can race your way through the many phases with a colorful card holder and special score pads. Tin contains 108 cards, convenient card tray, score pad and instructions.
Ages: 8 and Up
Players: 2 to 6
Contains 108 Phase 10 cards, special scorepad, card holder, & playing instructions, all kept neatly in storage tin
Additional Information