Net Gin Rummy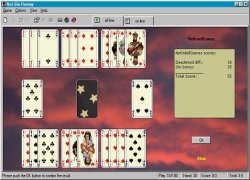 Net Gin Rummy gives you a chance to play the game with computer bots or live opponents via the Internet or LAN. It is also possible to play simultaneously on two tables, easily switching from game to game. For each table you can:
Lets you play Simple, Standard and Oklahoma Gin variations of Gin Rummy against computers or/and live opponents on two game tables that easy to change.
Five skill levels are available for the computer opponent, in ascending order of difficulty from Beginner to Master.
Provides you with the detailed statistics: personal statistics, hi-scores (top 20) and overall scores.
Options let you customize cards, decks and backgrounds; choose text messages fonts and colors; define card speed; associate sound effects and much more...
Automatically deals and calculates your hand score.
Lets to exchange messages with the help of a built-in or on-line chat.
A multiple-part status bar displays all needed information.
Easy to install and uninstall.
Easy to link up and play with human opponents in a local network or on the Internet, using direct or modem connection.
Detailed built-in and on-line help.
Nice, easy to use user interface.
Free upgrades.
Gin Rummy is good for adults and children and is a great family game!
By NetIntellGames
Operating System: Windows
Version: 5.40, 2004-01-05

Additional Information
Price shown is believed to be accurate, but price and availability can and do change frequently. Please follow the links for current pricing.