Microsoft Carioca Rummy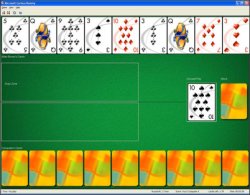 If you enjoy card games, you will love Microsoft?s Carioca Rummy! Carioca is a fun form of Contract Rummy popular in Argentina and Chile.
The object of Carioca Rummy is for the player to drop all cards by completing the contract (or required hands) for each of the eight rounds. Once a player has dropped all cards, any cards remaining in the other player's hand are scored. The player who wins is the one with the least amount of points at the end of the game.
Carioca Rummy is traditionally played with two to four players and uses two English decks of 52 cards, plus two Joker cards.
You may also be interested in the Carioca Rummy Rules.
By Microsoft
Operating System: Windows
Version: 1.0.0.47, 2006-03-10

Additional Information