Kings and Queens Rummy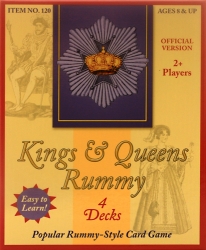 Kings & Queens Rummy is a popular, rummy-style card game. Its quad deck includes 216 cards that are custom created to fit this unique game play. You must exhaust you King hand and queen hand by laying runs and sets to go out. Make the correct combinations, be the first to go out, then watch as your opponents' scores rise. The lowest score is the biggest winner! 216 deluxe cards and instructions are included.
Popular Rummy-style Card Game
Quad Deck includes 216 cards
Get rid of your King & Queen hands by playing specific sets and runs
Two hand and Five Rounds complete this entertaining game
Ages 8+, 2+ Players
| | |
| --- | --- |
| | $7.76 |
Additional Information
Price shown is believed to be accurate, but price and availability can and do change frequently. Please follow the links for current pricing.