Championship Rummy Pro for PocketPC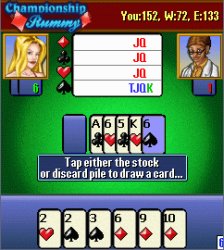 Plunder melds and run with this jewel! Discover the most realistic game of Rummy available for your Windows Mobile / Pocket PC device. Learn basic play and strategy in our tutorial. Improve your skills using unlimited hint, undo and replay. Master your game using detailed history and statistics.
Play Rummy your way with hundreds of game options at your fingertips. Popular variations including Kaluki, Michigan, Reverse Rummy, and others that are just a click away. Tweak scoring, passing, deck size, number of players and more to create your own variation. Play with our colorful tabletops and decks or design your own for a fresh, new experience every time.
Sit down and have fun with the adventurous Wes, the perky Starla, the dastardly Chuckles, or 21 other characters as they challenge you on five skill levels. Whether you are an expert or berummyner, their knowledge of the game and never-ending charms will keep you entertained for years to come!
By DreamQuest Software
Operating System: PocketPC
Version: 6.99, 2007-05-27

Additional Information
Price shown is believed to be accurate, but price and availability can and do change frequently. Please follow the links for current pricing.