Bonnie and Clyde Mystery Rummy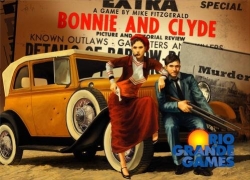 This is a Rummy-style mystery card game based on the notorious outlaws Bonnie Parker and Clyde Barrow who robbed banks throughout the central United States between 1931-1935. Their exploits and charisma made them famous, and their story has been made into books and movies. Ted Hinton was the FBI agent charged with capturing them.
There are two basic types of cards used in this game: Evidence cards and Gavel cards. The play of the game is based on the Rummy card game, with players trying to make melds (3 or more of a kind) of Evidence cards of the same color to score points. The Gavel cards add a strategic element to the game not found in traditional Rummy. The game ends when at least one player has scored 100 points or more (or 200 points depending on the length of game desired). The player with the highest score wins. In the event of a tie, you must play another hand. You will need a pencil and paper to keep score of each hand.
Bonnie and Clyde is for 2-4 players, ages 8+ and takes about 45 minutes to play. Bonnie and Clyde includes: 1 crime spree figure, 77 cards, game board and rules.
| | |
| --- | --- |
| | $19.95 |
Additional Information
Price shown is believed to be accurate, but price and availability can and do change frequently. Please follow the links for current pricing.