Scarne's Encyclopedia of Card Games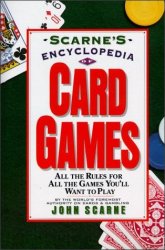 A classic in its field, this is the essential, all-inclusive guide to today's card games, including Rummy, Canasta, Bridge, Whist, Euchre, Cribbage, Blackjack, Solitaire, and dozens of other games.
Here is everything you've ever wanted to know about the histories and variations of the world's most popular card games, as well as histories and variations in the games, odds, and tips on how to detect cheating.
By John Scarne
| | |
| --- | --- |
| | $14.75 |
Additional Information
Price shown is believed to be accurate, but price and availability can and do change frequently. Please follow the links for current pricing.