Official Rules of Card Games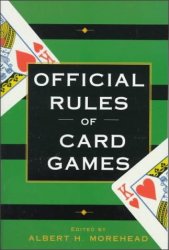 With complete rules on more than 300 popular card games, including the new international laws of contract bridge, this comprehensive book also includes special sections on: choosing games for particular occasions, teaching card games to children, the etiquette of card games, technical terms used in card games, and more.
Includes basic rules for Rummy, 500 Rum, Gin Rummy, Contract Rummy, Knock Rummy, Canasta, Panguingue, and more.
By Albert H. Morehead
| | |
| --- | --- |
| | $13.34 |
Additional Information
Price shown is believed to be accurate, but price and availability can and do change frequently. Please follow the links for current pricing.